There is a new version available: https://www.ensys.lt/product/storm32-nt-imu-module-v3/
Specifications:
IMU Input voltage: 2 – 5.5 V.
Compatible with StorM32 version: 2.03-NT and higher.
Board dimensions: 14mm x 24mm x 2mm.
Sensor: MPU6050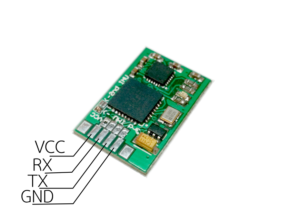 LED Status:
1Hz blink – OK, camera IMU setting.
double-blink – OK, 2nd IMU setting.
triple-blink – OK, 3rd IMU setting.
5Hz fast blinking – Error status. The controller is
unable communicate with MPU6050 chip.
3rd/2nd/Camera IMU setting:
The module works as a camera IMU by default,
to set it as a 2nd IMU, the "2nd IMU" solder bridge
should be shorted. To set it as a 3rd IMU, the "3rd IMU" solder bridge
should be shorted.
Package:
– A tested and working StorM32 NT V2.5 IMU Module with latest firmware (tested against SToRM32 v2.19).