Specifications:
Input voltage: 7 – 18 V
Driver chip: DRV8313
PWM Control Frequency: 32khz
RMS Output Current (A): 1.75A
RDS(ON) (HS + LS) (mOhms): 480 mOhm
Operating Temperature Range (C): -40 to +85C
Compatible with StorM32 version: 2.03-NT and higher.
Board dimensions: 27 x 25mm
LED Status:
1 Hz steady blink – Module is not receiving NT bus data
single-blink – Status OK, Pitch Setting
double-blink –Status OK, Roll Setting
triple-blink –Status OK, Yaw Setting
Connection
There are two ports for NT bus connection (VCC,TX,RX,GND) which allows daisy chaining the modules. The signals are connected inside the module (VCC-to-VCC, TX-to-TX, etc.). BLDC motor connects to the BLDC motor port, this is the same as in the STorM32 controller. Wires can be connected in any order, which only affects the motor spin direction. If motor spins in the opposite direction, use "reverse" mode in STorM32 GUI utility.
Pitch/Roll/Yaw setting:
The module works as pitch motor controller by default,
to set it as a roll or yaw motor driver, the following solder bridges must be shorted appropriately shown in the picture.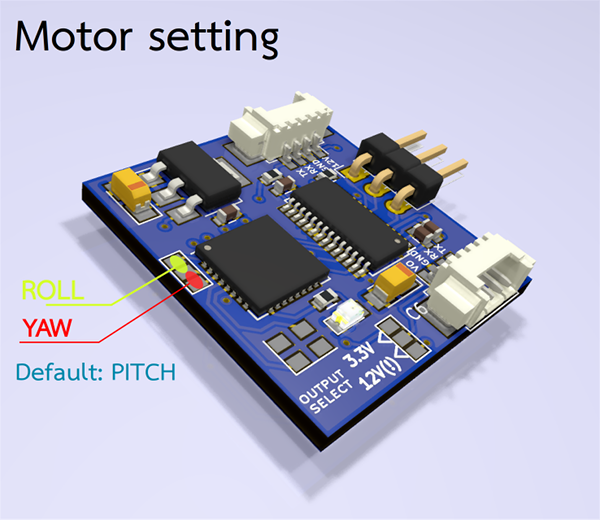 Package:
– A tested and working StorM32 NT Motor driver with latest firmware.
– 3 Pin angled connector seperately solderable.